The conference is going to be held at the Royal Castle in Niepołomice town. All participants will be accommodated on site.

Postal adress:
Foundation for the Royal Castle in Niepolomice
2 Zamkowa Street
PL 32-005 Niepolomice
Poland
Office - telephone: +48 12 281 32 32
Hotel - telephone: +48 12 261 98 00
Fax: +48 12 281 32 32
E-mail: fundacja@zamekkrolewski.com.pl
GPS coordinates:
500 2' 3.507" N
200 13' 2.918" E
About:
The Royal Castle is located in the heart of Niepołomice, 25 km from the centre of Kraków. The Niepołomice community is positioned in the very centre of a communication triangle, marked by three different roads: Kraków – Wieliczka – Tarnów, Kraków – Nowa Huta – Sandomierz, Nowa Huta – Niepołomice – Kłaj – Bochnia.
The national road 75 (direction: north-south), the motorway A4 from Kraków – Tarnów, including the provincial route no. 964 Wieliczka – Niepołomice – Szczurowa and county roads no. K2009 and K2011 ensure that there is a good link between Kraków and the neighbouring communities. The community area of Niepołomice is supported by the John Paul II International Airport Kraków-Balice. The distance between the town of Niepołomice and the airport is about 40 km. Since the new A4 motorway from Kraków to Szarów opened, the journey to the airport has vastly improved, the travel time can take around 10 minutes. The motorway is accessible in two places, on the Wieliczka by-pass or in Targowisko.
Source: www.zamekkrolewski.com.pl/en/
Approximated distances to selected places:
City center of Kraków - 25 km
International Airport Kraków-Balice - 40 km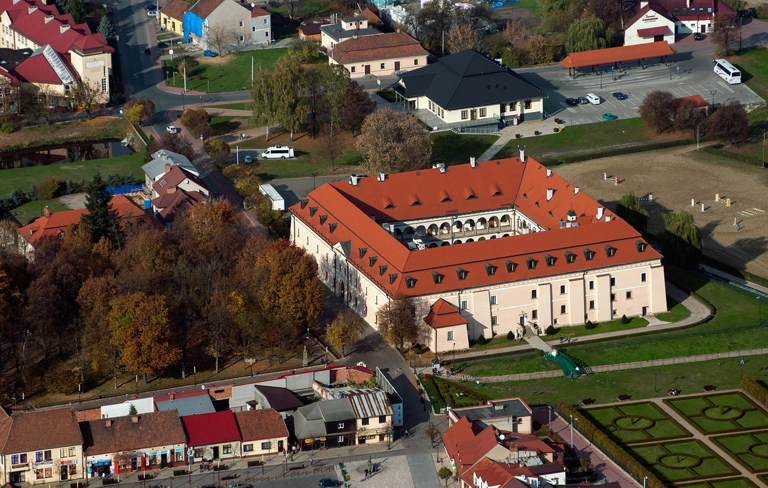 Source: https://www.google.pl/maps
Source: http://en.zamki.pl/
copyright© Summer School of Plasma Diagnostics: PhDiaFusion 2019, http://phdia2019.ifj.edu.pl, webmaster: Łukasz Marciniak